yes, it's time for another installment! it seems like it's been forever.
i am trying not to spend much money on things for myself right now, yes, yes.
but if money was no object, grew on trees, i had a money-dispensing angel, or won the lottery (or hell, had a regular paying job! meep!)... then the following objects are my carefully chosen obessions-du-jour. in other words, here's what i'd buy
right now...
***
these amazing pegasus wing earrings by brit jewelry mavens tatty devine:
in both gold and black! there's something simple yet fantastical about them, and they have a glitzy sort of feel that could dress up just about anything.
***
i love the sculptural shape of this so-called UM tote by conphorm, and it's wooly, opaque texture. if i got one for myself, i'd get one with an orange zipper, natch. it would make a nice "canvas" for displaying interesting brooches or pins, perhaps interesting, unique ones made of fabric or wood.
find this tote @ elsewears, pls.
***
i like the idea of a short sleeved coat (this one is by opening ceremony @ creatures of comfort).
the sleeves of your undoubtedly interesting long sleeve blouse or sweater can peek out at the bottom of said sleeves, making a different fashion statement every time. personally? i'd fill the gap with ridiculously long (and ridiculously chic) soft leather or knitted gloves.
(p.s. i love anything that comes up around my neck like said coat...cowls, funnels, turtles and the like. anything that covers my neck or chin and lips. it's a habit that started once i moved to colder climes, and aesthetically, i think it's cute. if i was planning a line of clothes for the future, said necks would certainly be a highly featured detail in said line.)
***
if i was going to actually get another pair of jeans, i'd get this high(er) waisted pair from silence and noise (@ UO). i wouldn't say they were exaggeratedly high-waisted, just at one's natural waist (which is, boys and girls, somewhere around one's belly button)...i know this for sure, as i actually tried them on not too long ago. guess they are deemed to be high compared to the low-lows of the recent past? it's all relative, i suppose!
these chie mihara heels have an understated, undeniably sexy shape that comes from it's cut, the ankle strap, and the curve of the heels.
these are from halo shoes, in portland, but perhaps they can be found elsewhere?
***
and it isn't spring yet, but i'd love these black/yellow/red sandals or any of the amazing pumps in the bottom photo, all by eley kishimoto (from their spring 2007 collection):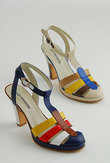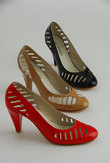 ***
(looking at all of it again, i might even wear them all AT ONCE. okay, maybe not the shoes...because that might be uncomfortable to wear three pairs of shoes at once. hee!)
***
p.s. all of these are contained within my stylehive! you can follow my stylehive picks by subscribing to the RSS feed (a link is usually found somewhere on the webpage, in my case, in the URL window on apple's safari), OR, you can press the button on my stylehive page entitled "follow this person!" i love seeing what other people find, love and post!