feeling colorful, sculptural, and a little downtown-ish in this installment of if money was no object... for starters, i covet this sculptural, modern transparent glass ball necklace by marina and susanna sent, from the modern museum of art store:
***
this simple tunic/minidress from daryl k. brings the downtown. i love the gathering around the sleeve area (looks a tad grecian, perhaps?), and the low but not revealing scoop neckline.
i'm really paranoid about showing my bust/lower part of my chest but actually like my collarbone (haha!) so her dress suits my figure and it's features just fine.
***
small ditsy fabric prints, at least when it comes to clothing, are not for me. give me BIG, BOLD, MODERN, and BRIGHT. like this springy, sassy dress:

***
colored jeans are making the fashion rounds once again. i'm all about it. i've noted that newport news (of all places) actually has the aforementioned. in ORANGE. the thought of such makes me very happy. i stand by the notion that said orange jeans would look fine with the olive-y tan daryl k. frock featured above, natch.
i know, i know, newport news is not typically a place of high, high fashion, but you know, i'm a big believer in the notion that interesting things may be and can be found anywhere...it's all how you wear it, not always where you get it from. right? right.
***
summer means sandals. so much the better if they are RED, in my book, like these wide-strapped soaring platform sandals available at anthropologie (damn place has so much nice stuff...!)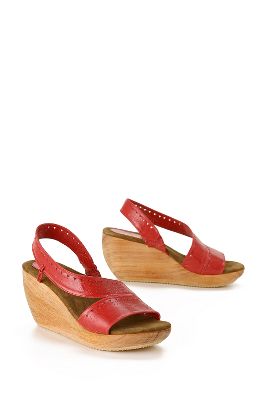 since i am all about giving credit where credit is due, i have to note that k. cooper is behind this last object of fetish...again. *sigh* thanks k.!