i've mentioned it before: i've got a thing for grey at the moment. and white, too. what works for me: mixing those shades of white, grey, beige, and black with my signature, saturated colors (orange, red-orange, reds, intense kelly and acid greens, and the like), and of course, denim (especially of my favored acid wash variety, for kicks). i'm also into the volume and layering that is happening of late, but i want to do this in my own way, that's true to me, and not slavishly following any one trend. i want to interpret it and mix those ideas with things i still and will always love: patchwork, some embellishment, quirky/funky pieces, folk art elements, and such.
***
this voluminous sweater would be particularly fabulous with an oversized kelly green or bright construction cone orange necklace: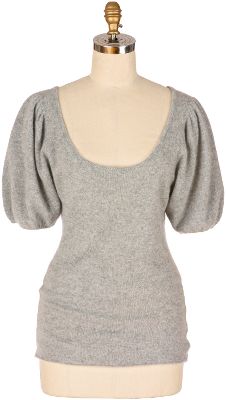 ***
a loose, rich brown bohemian smock dress that would look mighty fine with super bright orange tights and rich brown leather riding boots:

***
a simple white lace a-line frock, super sweet and fresh over broken-in straight leg jeans, with a tiny denim jacket over top (i of course imagine my favorite little levi's acid wash jacket), and paired with a pair of twee bright red pumps or flats:

i also see this paired with a giant, oversized, handmade patchwork bag. this dress could be easily replicated, even by those new to sewing. so simple and easy to mix and match with just about anything. the lace is what makes it special. ***
a mod tweed shift with an amazing, balenciaga-in-the-60s feel (by one of my favorite designers, twinkle by wenlan)...terrific, completely fall-like, and classic *and* on trend, all at once. could be worn in so many amazing ways: over bright or textured leggings, with ankle boots or flats, over a broken-in tee, or a classic cashmere turtleneck, and so on...

all anthropologie.